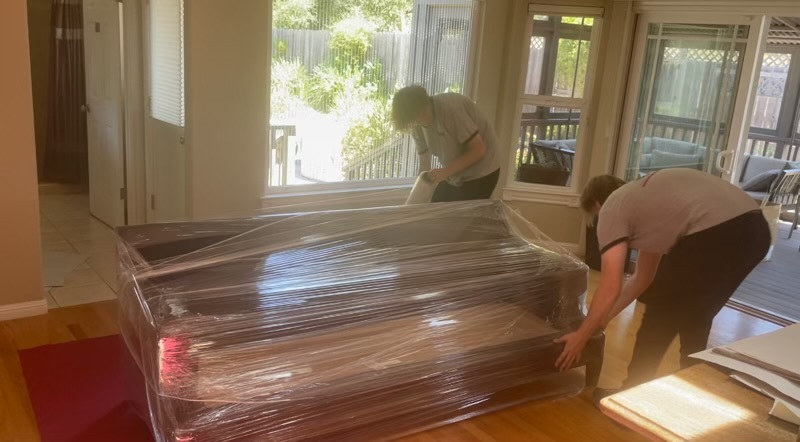 Here are some things to think about as you prepare for a move:
Summer is "peak" moving season. If you can be flexible about when you move, don't wait until summer.
Also keep in mind that the first and last weeks of the month are extra busy for all movers.
Specify the exact date you want to move and when it will be convenient for an agent to visually survey your household and prepare an estimate.
Tour your house before the agent arrives. Check from the attic to the basement, and determine what will be moved and what will be discarded. Show your agent everything that you will be moving.
If you plan to do the packing yourself, start collecting suitable containers and packing materials.
Set packing goals and deadlines. Have all packing complete by moving day.
Label your cartons "clearly" Indicating the contents and the room.
If you are being relocated at your company's request, find out what portion of your moving expenses will be paid by the company. If your company has a written moving policy, ask for a copy.
Dispose of all flammables such as cleaning fluids, aerosol cans, fireworks and matches. Drain the fuel from your power mower and other machinery. Discard partly used containers of any substance that may leak. Empty the water from your steam iron.
Obtain a written appraisal of antique items to verify their value. Don't wax or oil wood furniture before moving, because some products may soften the wood, making it vulnerable to imprinting from furniture pads.
Unplug all electronic equipment such as television sets, home computers, stereos, etc. 24 hours in advance of a move day so they will be at room temperature on moving day, Moving a TV set and other electronic equipment in which heat is still retained could cause internal damage.
Print these moving tips to help you during your moving process.
CHINA & GLASSWARE
Wrap all pieces of china and glassware individually. Using several sheets of clean paper, start from the corner, wrapping diagonally and continuously tucking in overlapping edges. Pad the bottom of dish packs with crumpled paper. Stand wrapped dishes on edge and load into box snuggly. Use small saucers and bowls in the second tier. Wrap with abundant paper and fill voids with crumpled paper. Pack glasses and cups in the upper portion of the carton.
FOOD ITEMS
When moving long distances dispose or give away perishables and cleaning chemicals. Wrap glass jars to prevent breakage or spills.
BOWLS AND PICTURES
Depending on their weight, these might be used for either the bottom or middle layers. Wrap the same way as flat plates. Stand shallow bowls on edge in the carton and deeper ones nested two or three together on their rims. Wrap sugar bowls, cream pitchers, sauce containers, gravy boats and similar pieces in newsprint and then double the outer wrapping. Place all upright in the carton, then top off the layer with wadded newsprint.
POTS & PANS
Pots and pans should be wrapped and packed in medium size cartons, heaviest items on the Bottom.
CUPS AND GLASSES
When using a dish pack with cellular dividers, wrap china cups individually first, protecting handles with an extra layer of clean paper. Then, pack cups upside down. If not using cellular dividers, wrap cups individually first in a double layer of paper and place them upside down on rims in a row on an upper layer. Top off the layer with wadded newsprint.
SILVER & FLATWARE
To protect silver pieces from tarnishing, they should be completely enclosed in newsprint or plastic wrap. Hollow ware — including bowls, tea sets and serving dishes – should be wrapped carefully like fragile items and packed like china. Loose flatware may be wrapped individually or in sets, and in paper or clear plastic bags. Even if silverware is in a chest, consider wrapping the pieces individually and repositioning them in the chest. Or, fill all voids in the chest with newsprint to prevent shifting. The chest can be wrapped in a large bath towel.
FIGURINES AND OTHER DELICATE ITEMS
Be sure the items are well protected with plenty of cushioning. Wrap first in tissue paper, paper towels or facial tissue. Then, wrap carefully in paper that has been wadded and flattened out. Small mirrors, plaques and pictures should be wrapped individually in tissue paper with an outer layer of newsprint. A bath towel or small blanket makes an excellent outer wrapping and padding for glass. Place items on edge in a carton.
FRAGILE ITEMS
Consult with your Moving Professional on the packing of exceptionally fragile items. Items with values exceeding $100 per pound will need to be listed on your "High Value Inventory" form to receive proper valuation coverage. If an item is extremely valuable as well as delicate, it might be wise to have it packed for you. Special materials might be needed for maximum protection. Pack books of the same general size together, in small book cartons. Pack books either flat, or with the spine touching the bottom of the carton. Do not pack with spine facing upward, as glue can break away from the binder. Expensively bound volumes or those of sentimental value should be individually wrapped before packing.   Start packing your bedrooms by tackling less-used guest rooms first. Children can help by setting aside the toys and books they want to take with them and packing the rest in boxes. Colorful stickers on the outside of boxes let children know their personal belongings are clearly marked, and allow them to identify their things when the moving van is unloaded.
CLOTHING
Clothes on hangers are hung in wardrobe cartons. Wardrobe cartons hold about 2 feet of compressed clothing on hangers or less if there is a concern about wrinkling. On moves fewer than 100 miles wardrobe cartons are free on a return at the end of the move basis.
SHOES
Footwear may be kept in shoeboxes then packed in medium size cartons or wrapped in paper. A single layer of shoes may be put in the bottom of wardrobe cartons. Do not pack heavy items on top of shoes.
HATS
Hats should be packed so that they are not crushed, in large cartons and marked "fragile".
JEWELRY
Jewelry should be removed from drawers and kept in your possession.
TOILETRIES
Dispose of aerosol spray cans, or take them with you. Bottles should be carefully wrapped to prevent leakage, then packed in small cartons.
BEDDING, LINENS & TOWELS
Blankets, sheets, towels and other linens may be packed in a carton that has been lined with clean paper.
MATTRESSES & PILLOWS
Mattresses should be placed in mattress cartons for added protection. Pillows make good padding for other items.
BED FRAME
Dismantling bed frames is NOT necessary. It will save you money on hourly-based moves but not on weight based moves.
MIRRORS
Glass mirrors should be packed in mirror cartons. If they are especially heavy, crating is recommended. On local hourly moves the movers will pad wrap large pictures and mirrors.
DRAPERIES & CURTAINS
Wardrobe cartons are ideal for moving curtains and drapes. Fold them lengthwise, place over a padded hangar, pin securely and hang in the wardrobe. Draperies and curtains also may be folded and packed in cartons lined with clean paper or plastic wrap.
RUGS
Leave area rugs on the floor for the moving company to handle. Area rugs should be loaded last and unloaded first so the furniture coming off the truck can go right on top of the rug. Garages and storage sheds typically take the longest to pack, as they are filled with odd-shaped, sharp or heavy items that require special care to pack correctly. Start by safely disposing of items that cannot be shipped, like pesticides, fertilizers, oil and gas.
TOOLS
Long-handled garden tools, as well as brooms and mops, should be bundled together securely. Attachments should be removed from power tools and packed separately. Hand tools may be left in toolboxes and the spaces filled with crushed paper, or they may be packed according to general packing rules. Always use small cartons for heavy tools. Use old towels to wrap and tape any sharp-edged tools. Power tools must be safely drained of any gas and oil before moving.
RAKES & BROOMS
Shovels, rakes, brooms and the like need not be packed; gather them together for your driver to bundle in a pad.
LAWN & PATIO FURNITURE
Remove pads and clean frames. Pack pads in large carton or wardrobe.
UMBRELLA
Keep it clean and dry during transport by wrapping it in paper padding or a plastic bag and taping shut. Do not pack the weighted umbrella stand.
BARBECUE
Your barbecue should be clean but wait for the movers to advise you on how it is to be handled.
OUTDOOR EQUIPMENT
Before moving day, dismantle children's swing sets, TV antennas and garden sheds you plan to take with you. The movers will supply this service. Place small hardware in a plastic bag or old coffee can and label. If the parts bag can be securely attached to corresponding equipment, all the better. Prepare lawn mower by safely draining gasoline prior to loading day.
POTS AND PLANTERS
Pack small ceramic or pottery planters like any fragile item – individually wrapped with plenty of cushioning. If you plan to move any large or unusual planters, consult your moving professional. You will need to repack items in boxes that are torn, falling apart or cannot be sealed. This is usually the case with items found in the attic or crawl spaces, like seasonal decorations or old items.
VEHICLES
You have the option of moving your vehicles with your household goods, or separately, which can be arranged for you by your mover.
Consult with your moving professional for the following items and more:
Riding mower
Gas leaf blower
Snow blower
Motor scooter
Moped
Trampoline
Above-ground swimming pool
Hot tub
Satellite dish
Storage shed
Swing Set
Jungle gym
Dog House or Kennel
Your home office will likely contain your important paperwork and legal papers. Set these aside beforehand and plan to take them with you. Computer equipment and other valuables that exceed $100 per pound will need to be listed on your "High Value Inventory" form to receive proper valuation coverage.
COMPUTERS
Back up all files on a floppy disc, CD or tape and take with you. Label cords and cables so you will remember which units go with which device. You can purchase computer-labeling kits at any office supply store.
COPIERS
If your home copier is larger than desk size, it must be serviced by a professional before transport.
PRINTER
The toner and laser cartridges of any laser printer should be removed. Dispose of them safely and get new ones at your destination. On other types of printers, a professional should secure the print head, with preparation depending on the model.
OFFICE FURNITURE
Any modular office furniture will need to be dismantled prior to move day. Use tape to mark where pieces go together and keep the hardware together (including drawer pulls) in one spot, like a plastic bag or coffee can.
Pack books of the same general size together, in small book cartons.
Pack books either flat, or with the spine touching the bottom of the carton. Do not pack with spine facing upward, as glue can break away from the binder.
Expensively bound volumes or those of sentimental value should be individually wrapped before packing.
The movers will unpack your goods and place them on a shelf, table or other surface. It is more common that you will want to unpack.
SOME GOOD ADVICE
Have movers place cartons in the proper room.
Use Care when cutting open taped cartons.
Tape at least two flaps down for convenience.
Unpack over the carton. Fragile items that pop out of paper will land on the pad items in the carton.
Set aside anything broken and note the carton number.
Wait until you are completely unpacked to report any loss or damage.
As you unpack be sure not to throw items out with the paper.
Stand over the carton, unfold the paper completely then throw the paper to one side.
When the carton is empty put discarded paper back in the carton and fold the flaps. The moving company will pick them up if you like.
Sometimes there is a charge for carton removal.
You could discard the paper, flatten the cartons and save them for a future move or a friend.
Some people have reported that they sold their cartons.